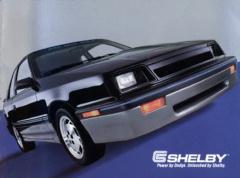 © 1987, Shelby Automobiless Inc.


The (1987) Shelby CSX
I'll always be a Dodge Boy (®?) at heart, my Dad worked for Chrysler for ~30 years and I grew up driving K-car derivatives. For a short while during school I had the use of a '87 Dodge Shadow ES, all black. The car suited me perfectly, everthing about it just felt right. Within a few short weeks it was totalled, I was crushed. Fortunately though, it was a lease car and I didn't actually own it.
When I was young back in '88, I got my first Job at Chrysler. While I was out on the Lynch road1 lot, looking for a car suitable for purchase for a family member, I saw it. That was it, love at first site. I had heard about the Shelby CSX before and had even seen one driving down the road, but nothing prepared me for how I felt about this car.
1 Where Chrysler re-sells employee lease cars and product evaluation vehicles.
I don't know what it is about the first car you put down your own hard earned cash for, but I'll always love this car. Even today, after the car is 10 years old and I've owned it for 9 years, I still feel the same behind the wheel as I did way back then. It even serves as my daily driver today.
The history of my Shelby
Only 750 Shelby CSXs were produced, mine is number 722. The Shelby CSX is a modified Dodge shadow. It is based on the standard black shadow (not shadow ES), The only options from the factory (Sterling Heights Assembly Plant/SHAP if you care) are Air, AM/FM cassette, and a turbo charger. Shelby modifications and additions are:
It lived its first year as one of 4 Shelby's that made the auto show circuit in '87. So there's fair odds if you went to an auto show that year you've seen my car in person. After that the "Special Vehicles" department put mine out on lynch road as and advertisement to sell all four. That's when I picked it up. Back then I got if for a steal at about $9,900.
I've tried to take good care of it, but 9 years is long time and it's starting to take it's toll. Between the 80,000+ miles and a couple of accidents, some areas are begining to show some corrosion. Overall though it still looks pretty good.
Other Shelby and/or Dodge related sites:
---